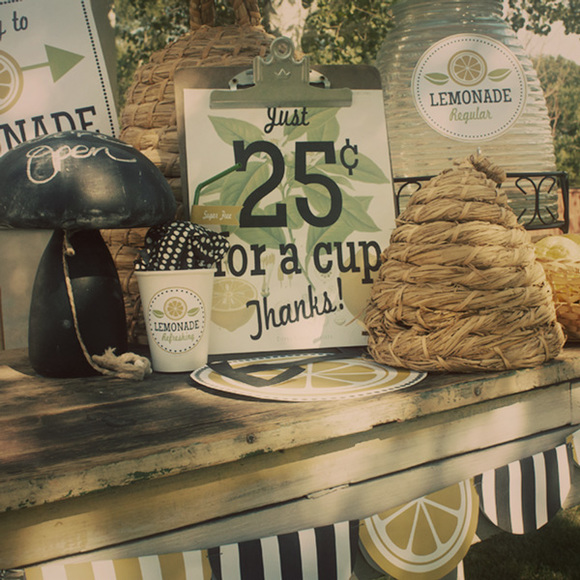 When life gives you lemons, make a lemonade stand! Download a fun set of printable graphics to pretty up your space.
I really meant to be a better blogger. I did. I did. My life is a little crazy these days! We've been in our new house for a year now and I am still telling people I "just moved in." How long does that excuse last? HaHa!  Now it's summer again and I don't think things are going to settle down any time soon. My kids are finishing up their last week of school and are heading in to summer break.  They have a short 3 week summer vacation then it's back to the books. Year round school isn't fun.
We have to pack a lot of summer fun into a short time. One thing the always ask me is to have a lemonade stand. I love this clip from Olive Us (have you seen Design Mom's new project? It's genius). It inspired me to make a lemonade stand kit for my kids.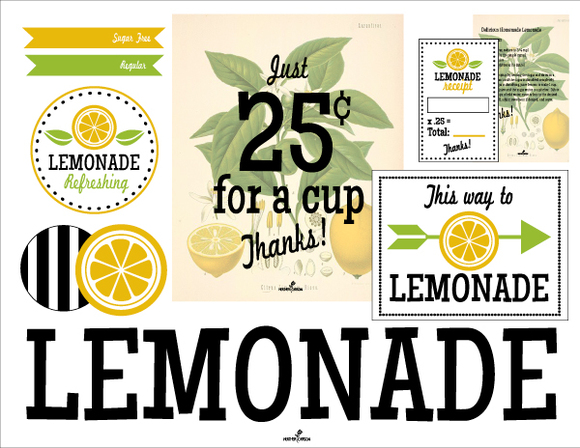 Do you want one?  The file contains art to make a paper bunting, large "LEMONADE" letters to cut out for a sign, direction yard signs, a price sign, stickers to make cups look cute and custom, flags for straws to mark who ordered what, order forms, receipts, & even recipes! I'm going to laminate all the main components so they can use them over and over again. Then we'll just print out the other pages as needed.
Have your kids get out their scissors and get to cutting! Hopefully, the prep will take one day and the lemonade stand itself another. Two activities for the price of none!  Your little entrepreneurs will love it.
It's in a multi-page PDF file and you are more than welcome to download it for your personal use.
We just used a table for our stand. If you want to build a more permanent structure check out this cute idea.  I want one :)