The bootcamp assignment for February was Cuckoo clocks. Fun right? LOVE it! My grandparents always had a cuckoo clock and made sure our family cabin had one too. Later, they gave all of their kids cuckoo clocks as well so my parents have one hanging in their house and my kids love it too. We loved waiting for the hour chime and the bird to chirp and music to play. My cute grandpa always took it upon himself to be the clock fixer and winder whenever he was around. Such a fun memory.
In the years since design school, most of my projects have been corporate based with emphasis on logos, branding, advertising layouts, etc. I still love a good logo/branding project. But I have completely missed drawing things. It was amazing getting the license to sit down and draw.
I may have gone a LITTLE bit overboard on the sketches. I think I have about 20 pages of sketches of clocks and clock related bits. Such a blast!
Here's an Instagram shot of some of the sketches: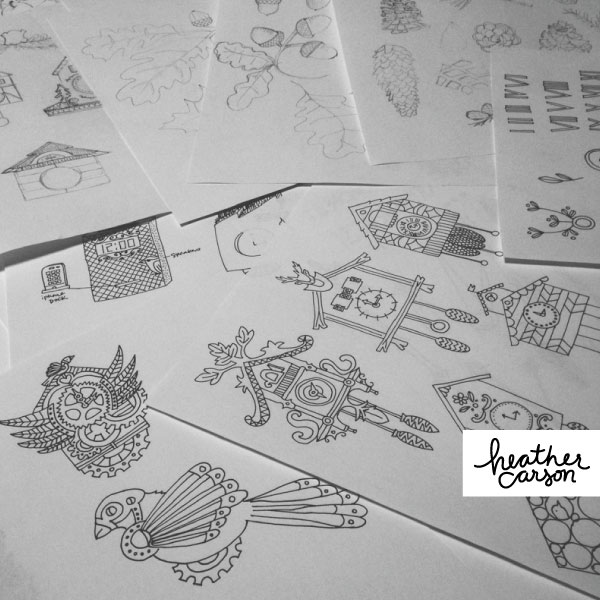 We then were assigned to create something for an iPhone cover. Here's what I submitted to Lilla's gallery: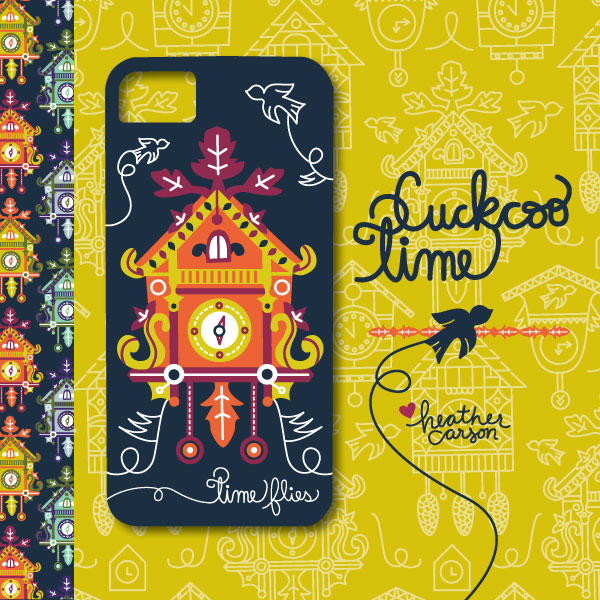 And here's a few complimentary patterns I made to go with the cover:
I've had  Society6 and Spoonflower shops for quite awhile but haven't really ever had anything in them. I put these patterns in both shops if you are interested. Society6 has phone covers, pillows, totes, etc. Spoonflower has fabric, wallpaper, and gift wrap.
All this cuckoo business has me itching for a fun cuckoo clock for my house. The clock pictured up top are available [HERE] [HERE] and [HERE] aren't they cool? I think I want to find one that's not as authentic so I won't feel bad if I paint it a crazy color. HaHa.